Choose The Best Chicken Coop Plans Your Budget Will Allow
---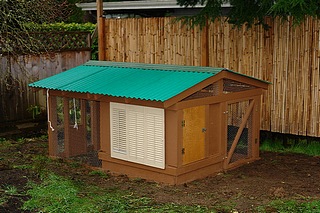 There are lots of chicken coop plans out there in cyber land. Everyone is bragging about how they have the best ones. Well, once again here at Raising Chickens, we have done the hard part for you. We searched them out for you and purchased them ourselves, just so we could take a good look at them, review them carefully, and give you our opinions. We want you to make the most informed decisions possible before you spend your hard earned money.
There may be some questions that you want to ask yourself before you even think about purchasing your own chicken coop plans:
Do I want to build my own chicken coop?
You can save money by doing it yourself. When you purchase a pre-made one, you are going to usually pay at least $500 plus shipping (which usually isn't cheap). But is it worth my time? That's for you to decide. Most people that have at least an inkling of "do it yourself" in them can build a coop in a weekend or so.
Do I need chicken coop plans? Why?
You might not. People that are familiar with woodworking can probably just draw up their own chicken coop plans and build it themselves, but you will probably miss some things. Many of these plans for purchase contain multiple plans of varying sizes and features. Even if you could build it yourself you will probably get ideas of things to add and ways to do it. I know I did. Plus all of these are easy. When you purchase them securely, you can then download them straight to your computer. No need to pay shipping costs and no need to wait. It was an easy process when I did it.
Now for the reviews.
Better: Chicken Coop Guides
---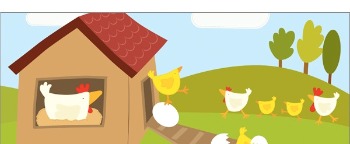 ---
Number of Chicken Coop Plans: 6 plus one plan for just a chicken run.
Five of the plans are for larger coops (10 to 20 chickens) and one plan is for a chicken tractor, plus the plan for the chicken run, which you could really add to any of the coops they feature.
Bonuses:
Chicken Keeping Basics (12 pages): These basics feature some good chicken information. There are some good tips. The one that sticks out in my mind is a section on "how to keep your chickens from eating their own eggs."
Keeping Chickens In the City (2 pages): This is some very basic advice for those that live within the city limits.
Keeping Chickens Safe / Healthy (11 pages): This guide contains some good information on common diseases and prevention methods.
Egg Recipes (42 pages): This was actually my favorite bonus. They give you 111 recipes for eggs. Some good ones in here!
The Low Down:
This is a good quality guide. Overall the plans are firm and varied. However, I wish they had more specific plans for a mid-size coop, but you could always scale down the plans they have. The bonuses contain some good information and would be worth your time to read. Did I say I liked the egg recipes? Well, I did.
cost: $37.00
Not the best bargain in the world, but worth the price of admission, especially if you want the egg recipes and the plan for the chicken run, both of which are unique and can't be found in other guides.
Click Here!
Best: Building A Chicken Coop
---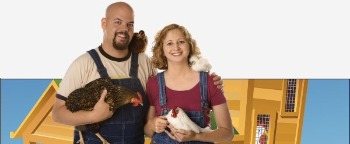 ---
Number of Chicken Coop Plans: You have six chicken coop plans and one chicken tractor plan. You have one mid-size coop mixed in here, the rest are for 10 to 20 chickens and then of course the chicken tractor that is for a few chickens.
Also featured is the "Building A Chicken Coop Guide." This guide to go along with building your coop contains 84 pages and covers a lot of information. They discuss everything from choosing the right coop to controlling temperatures in your coop and features that would be helpful for cold and warm weather environments.
Bonuses:
Poultry Architect (152 pages): This is a full book from 1907. It is an interesting take on chicken coop building and a lot of the information included is still viable today.
How To Best Position Your Chicken Coop (3 pages): Basic, but important information.
How To Easily Build Nesting Boxes Out of Common Materials (3 pages): Good information.
Best Materials (3 pages): Good for those who are new to building.
The Cheapest Materials (3 pages): Again, basic, but important information.
The Low Down:
I ranked this one the best for the value. They have more varied plans that are all good quality. They have a great 84 page guide that contains well organized and important information that you should know when going to build a coop. There bonuses are basic information, but they are important. The old Poultry Architect book is also a unique twist and a good bonus.
Cost: $19.89
A very fair price compared to the other plan.


Click Here!
Video: Make Your Own Chicken Coop
---
Okay I know some of you do better by watching a video than reading a book. This is my favorite video on building a chicken coop.
Cost: $26.99

Click Here!
---
Return from Chicken Coop Plans to Chicken Coop