Welcome to Raising Chickens
A site dedicated to the love and care of raising chickens
This site was created to provide information to everyone interested in chickens, whether you are a newbi or experienced chicken farmer we can help you with all your chicken information needs.

We hatched our website in 2009 to share our knowledge and experience about chickens. This site contains tons of information that will help you get started. People who have never raised chickens often ask: Why do you want chickens?
These are a few of the reasons I talk about:

1. Chickens will provide you a supply of healthy fresh eggs

2. Living yard art

3. Fun hobby, whether hatching your own eggs or showing them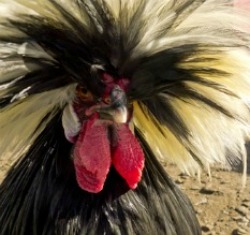 4. Chickens are excellent at pest control and weed eating, while providing free organic fertilizer
5. Chickens make good pets, they even make diapers for chickens(OMG)

6. Raising chickens teaches children respect and care for animals

7. The start-up cost of raising chickens is very reasonable

8. Chickens are just plain fun and a joy to be around

Starting from scratch:

---
Beginners Guide to Raising Baby Chicks: This is an 8 step guide that will get you started quickly and on the right track. 

Raising Baby Chickens: More general information on baby chicks. 
Chicken Coop: Very important if you plan on keeping your chickens safe

Feeding Chickens: Before going to the feed store read this and you will know what feed is right for you. 

Raising a healthy flock:

---
Beginners guide to raising chickens: Quick easy to read steps to get you started. 
Chicken Predators: Know who the bad guys are and how to stop them.
Chicken Diseases: Become familiar with diseases that could harm your chickens and wipe out your flock 
Breeding Chickens: There are so many different breeds of chickens, figuring out which is best for you is fun 
Organic Chickens: What you see in your local grocery store is probably not truly organic. Learn what real organic chicken is all about.
Hatching Eggs: Doing it for fun or creating and maintaining a pure breed
Chicken Questions:  Many questions have been answered over the years see some of our most popular questions for answers to your problems.

We also have a very informative newsletter with the most up to date chicken information you will find anywhere. Please become a subscriber and we will put you on the list for the next issue.