Big red & purple rash between legs

---
by Jayde
(QLD Australia)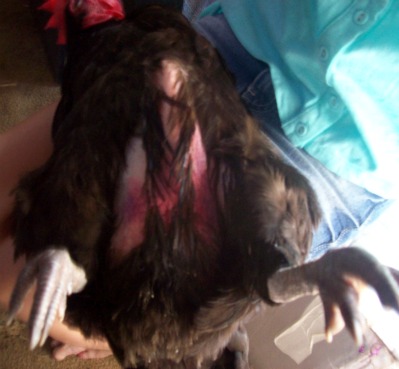 Question:


My hen is 3 years old. She has a big red & purple rash between legs! .
This morning, it was very small and pink but it has gotten worse. We have washed it in salted water to see if it could help but it hasn't done anything since.
What can we do and what is it? (We hypnotized her for the photo)
Answer:
Salted water will not help or cure a rash. Has she been pecked by the other hens? Are there any pieces of splintery wood that she can be getting scraped on?
I would suggest that you go to the feed store and get an antibiotic gel to apply to the affected area.
It would also be wise to pick up a water soluble broad spectrum antibiotic for her. She should be isolated until she is well again.