Penedesenca: The Dark Egg Spanish Breed
The Penedesenca chicken breed are good layers of a very dark egg. They do their best under free range conditions.
Penedesenca Facts:
Size: Standard Male: 5.5 Ibs. / Standard Female: 4.5 Ibs. / The black variety tends to be much heavier than what is listed here.
Comb, Wattles & Earlobes: They have an unusual comb that begins like a large single, but has multiple lobes at the rear. In Spain, they refer to this comb as the "king's comb" or "carnation comb."
The comb stands upright in males and droops to the side in females. The medium-size wattles are moderately long in the male and well rounded in the female. The earlobes are medium size and the comb and wattles are bright red. The earlobes are red with a white center.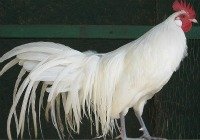 Color: The eyes are black around the edges with a honey-colored iris.
Black: They have a dark horn beak and dark slate shanks and toes with standard black plumage.
Crele: The beak, shanks, and toes are almost white and they have standard crele plumage.
Partridge: They have a dark horn beak and bluish slate shanks and toes. They have standard partridge plumage.
Wheaten: They have a dark horn beak in the male and a light horn beak in the female. They have light slate shanks and toes and a standard wheaten plumage.
Place of Origin: Spain
Conservation Status: N/A
Special Qualities: They do best in free range conditions. Good layers of dark brown eggs.
This breed was developed in the Catalonian province of Spain during the first half of the twentieth century. They were developed from native barnyard stock that were known for producing extremely dark eggs. The breed was first standardized in Spain about 1946 in the black variety.
The breed, like many we know today, almost died out at one point. In the 1980's, a biologist with the Spanish government began efforts to save the breed.
Since then, it has made a real comeback, thanks largely to the desire of breeders around the world to have good dark egg laying chickens.
These eggs are among the darkest of any chicken. They can at times become almost black. After the first year, the hens then begin to lay eggs that have an almost reddish brown cast to them.
This breed is known to be great free range birds and can fend for themselves in all but the dead of winter. The hens will tend to go broody and they are also can be a high quality meat bird.
The breed has yet to be recognized by the APA or other North American organizations.
Return from Penedesenca to Poultry Breeds