Sudden illness in two months old chick

---
by AK
(New Delhi, India)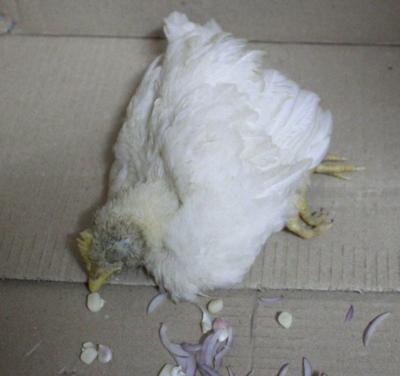 Question


Sudden illness in two months old chick: Came to notice today in the morning, the chick wasn't moving much, mostly standing apart from rest of the flock.
Two other chicks showed same behavior but showed interest in eating. This one though did come forward once or twice but didn't eat.
A few times he did try but without much enthusiasm, the others were able to snatch food from him.
Had been standing in a corner or perched. He ran about when we tried to pick him up, but didn't resist as much the healthy ones do.
We were able to make him drink a few drops of water mixed with teramycin, after that we isolated him and put him in a cardboard box, since then he has been lying down and hasn't moved an inch.
We also feel he has become pale, and the comb also has faded to a pale yellow.
We don't know the breed.
We have been feeding them fresh green vegetables like spinach, coriander, bottle gourd, also onions and tomatoes sometimes.
And pearly millet soaked in water overnight because they don't show much interest in the seeds. Musk melon seeds and outer covering nearly everyday, and water melon too. Sometimes garlic.
There are 12 in all, we had started with 15. One of them died in the first few days, One was found dead in a month, it had been healthy and found dead one morning, one accidentally. They have been kept in an enclosed area of 12 by 12 foot.
Where they can move about free, but the place lacks cross ventilation because it opens only from the top, but we keep an exhaust fan running 24,7.
I am including two pictures, one of the ill chick taken today, and the other of two healthy ones taken a few days back.
Answer
You didn't say if these chicks are being fed a chick start or grower feed. If not, they are probably under nourished.
There should always be plenty of good balanced feed so there is no reason for food stealing. Young chickens are not very able to digest whole seeds, especially if no grit is offered.
Young chicks are growing rapidly and need high quality nutrition that a balanced chick feed contains.
Adding fresh fruits and vegetables is good, but I would avoid seeds until they are bigger. You might want to consider giving vitamin and mineral supplements.