The Hawk that was a Rooster.
by AmandaLynn
(Coppera Cove, Texas)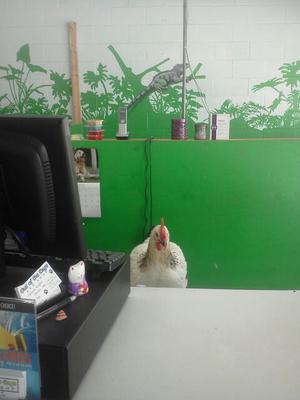 Runnig the store
On Jan 12th, 2013 my pet store after a massive make over reopened. With the influx of people came the calls to rescue animals. So the last Saturday of the month when a call for a young hawk came in I was not surprised. The stress of running a store alone with my husband stationed elsewhere was getting to me.


I had all but begged the people to call somebody else but after a little talking I had my friends load me up with supplies to feed a baby hawk. After an hour I finally located the woman who had called with a box.
Imagine my surprise to open the box and find a two week old baby chicken looking up at me. I told the woman it was a chicken and she said it had a curved beak so it must be a hawk.
I was in no mood to argue so I loaded the baby in my car and took it home in hopes that somebody might take him off my hands.
When I got home I opened up the box and this sleep chick looked up at me peeping no feed store are open at 8pm anywhere near me and with supplies for a hawk I was in trouble.
I put a bird cage with some parakeet seed and water on the floor and let the chicken inside it. He was a little skinny and dirty but who knows how long he had been wandering on Fort Hood without water or food. As I sat trying to ignore the peeps my smallest dog Champ laid next to the chicken whining at it.
Finally I got up and put the chicken in the box and let it lay next to me to sleep. On further inspection he had a few scratches but mainly was thin and very dehydrated.
By Monday the chick had a name Hawk-eye since I am a major M.A.S.H fan and it was the only name I could think of with hawk in it. Customers asked about adopting him and I heard many interesting reasons. One my rooster was killed by a hawk and my second favorite was they fight roosters in Louisiana and the chick looked like a male.
I heard many more but something about the little blondish following me around stopped me. Besides that he made me smile real smiles that I hadn't done since Mike left.
A week and four days an accident happened while talking with Mike, Hawk-eye curled up next to my 200lb potbelly pig and Pixie not realizing it rolled on top of him.
Hawk-keye let out the worst sound ever, I was holding a very limp chick. I was crying to Mike about what should I do and with little urging I was on my way to an after-hours vet. They all looked at me crying holding the lifeless little creature and I know they thought I was crazy.
Even the vet said put him down because they didn't think he would live. After much begging the vet agreed to treat him overnight. I spent much of that night begging whatever would listen to me to not let
anything bad happen to Hawk-eye.
At 8am Thursday I got a call my chicken was a little banged up but wanted to go home. Instead we went to the store.
News travels fast when you spend $300 saving a chicken's life but somehow is seemed worth it my store paid for it. Even with a bandage from the IVs Hawk-eye was determined to keep up with me and didn't cry when I had to give him his pain killers. People wanted to come see this chicken and would just come to my store to watch it follow me around like a puppy.
While going over the books I realized I need to make up $300 I spent on Hawk-eye which gave me an idea. Make Hawk-eye my walking Out of the Cage Pet Shop billboard. That and I wanted to show people that chickens are not as stupid as people make them out to be.
I started with basic tricks load up and unload from the car, fetch, and come. People would come and bring friends because everybody thought this little wannabe hawk was amazing.
With the introduction of tricks my home life changed as well. I couldn't even shower without finding my shadow right next to me. Bedtime went from Hawk-eye sleeping in a kennel to him sleeping on a towel on the bed only to find him curled into me when I awoke.
People loved him and I couldn't drive anywhere without coming back to my car with people taking picture (only to pay for gas or grab food from Blackmegs.) He even learned to walk on a dog leash and many other small business loved Hawk-eye visits because that meant people seeing a chicken walk into a store and people had to check it out.
At almost 9 months now Hawk-eye can no longer go to because he has taken up an aggressive stance to everybody but me however that hasn't changed what he had done.
In his short time he went to schools and showed children that chickens aren't stupid fowls but rather animals that are rather clever. He has several chicken breeders who have improved housing to reduce hawk or dogs from attacking chickens.
The best thing however is the little Easter chicks who would have been thrown away after a few weeks of no longer being cute a homes that wanted them.
It doesn't matter how rough a day at the store is I can come home sit down and find a rooster in my lap or laying next to me. When I go to bed we still have the fight over Hawk-eye's side and my side.
When he sees me with a soda knows if he pecks me I will give him a teaspoon of soda but he will never know its 80% water. I still find it odd that I went to save a hawk and ended up with a friend and companion better than a dog.
I ended up with a chicken who saved me and to show my thanks we are currently working on the Hawk-eye Project to make sure any more unwanted chicken hawks have a home just as good as his.