The Following People All Have Live Chickens For Sale
---
These people are great at breeding chickens and all have live chickens for sale. They are also, like most chicken people, some of the nicest you will ever meet. They were gracious enough to allow us to come out and tour their farms and they also allowed us to take pictures of their beautiful birds. The raising-chickens staff would like to personally thank them for their hospitality.
If you are ever in the South Atlanta area please give these guys a call and stop by and check out all the birds that they have. I guarantee you they have some of the most beautiful birds in many different rare varieties.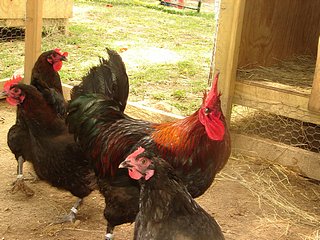 Connie Zullo has a place just outside of Barnesville, Ga where she has some very handsome birds. She has been breeding chickens for a while now and has some great stock. She features Black Copper Marans and also has a great selection of Leghorns, Spangled Hamburg Bantams, Wyandottes, and many other breeds. She also runs many of her hatching eggs on Ebay, so contact her to find out when she is listing, even if you aren't in the Georgia area. So she not only has live chickens for sale at her place, but you can order hatching eggs from E-bay.
Contact Information:

Connie Zullo:

Phone: (770) 349-5657

E-mail: connie.zullo@hotmail.com
---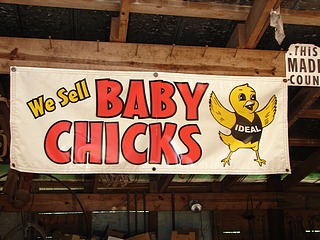 Gene and Louise Maddox also have a great selection of live chickens for sale. Gene has multiple varieties of Polish and features the beautiful Blue Splash. He also has some English Game Bantams, Cuckoo Marans, and Sumatras. He does his own hatching and also sells and trades eggs as well as selling birds. They are great people and will be glad to show you all their beautiful breeds.
Contact Information:

Gene and Louise Maddox

Phone: (478) 477-3818
---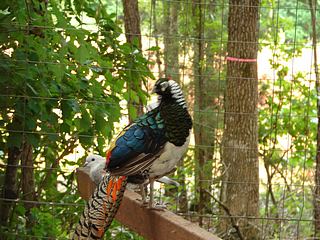 Dennis and Rachel Rich of D&R Farms are also great bird people. Dennis has a great variety of live chickens for sale, as well as other species of birds. He features the White Faced Black Spanish and the Blue Andalusian breeds. He also has Golden Laced Cochin Bantams, Red Jungle Fowl, and some Polish and d'Uccle varieties. What makes him different is that he not only has a great variety of chickens, but also some of the most beautiful pheasants that I have ever laid eyes on. Give him a call and come take a look.
Contact Information:

Dennis and Rachel Rich:

Phone: (678) 603-3777
E-mail: dennis-rich@bellsouth.net
---
Give these great chicken people a call and go see them. If you haven't started raising chickens yet, let them help you get started!
Live Chickens For Sale
---
How would you like to have a live page on our site to advertise your live chickens for sale. You can, it's free and easy. Just click on the state below, where you live, fill out the forms and don't forget to include pictures. We will take care of the rest. Within 24 hours you will have a live page on the internet. You will be able to give people your web address and they will be able to view all of your pictures and information.
To get started click on your state:
---
From Live Chickens for Sale to Raising Chickens Homepage
---