Chicken Feathers Questions
---
Chicken feathers can come in an unlimited variety of colors. Each feather grows with its own blood supply to a predetermined length, width and type, and will systematically be replaced nearly every year or as damaged or lost.
Good feathering is a sign of good healthy but can also mask problems such as sudden weight loss, injury or parasites.
Poor feathering can be a sign of malnutrition, over crowding, parasites, stress, disease, predators, molting or a chicken at the bottom of the pecking order.
Probably the feather's most important function is helping a chicken maintain a balanced body temperature. Feathers protect from the sun but also create a warmth barrier like a down sleeping bag or comforter.
Feathers can also provide protection from injury and it's a fortunate chicken that leaves a mouthful of feathers in a would-be attacker's mouth.
Chicken feathers, all bird feathers are marvels of design and must be maintained daily with hours of self-grooming. Most bird species have an oil gland at the top base of their tail.
With their beak they spread this oil from feather to feather creating a moisture barrier and conditioning each feather. The interlocking barbs that hold a feather's shape are readjusted and set as needed with gentle systematic preening.
Chickens love to take dust baths. Often they will scratch up the ground, creating loose dirt in a 3 – 6" deep bowl shape, where they will kick up dust, shuffle it with their wings and roll around.
The dust bath can work like a dry shampoo absorbing excess oils from skin and feathers. Some parasites are greatly disturbed by these dust baths and are knocked off or leave.
Chicken feathers vary from breed to breed but an experienced eye can help determine the sex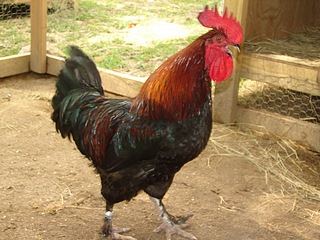 of developing pullets and cockerels. As with many bird species the adult male chicken or rooster sports a much showier set of feathers.
His neck feathers generally create an exaggerated cape much like the mane of a lion. Towards the end of his back and beginning of his tail saddle feathers they gently drape his flanks and sickle shaped feathers highlight and define his masculine tail in many chicken breeds.
In a straight run (male and female chicks) group, these three feather types will be the first to develop in young males often before they begin to practice crowing or comb development is complete.
The common ancestor of all domestic chickens, the Red Junglefowl, gives us the potential for unlimited variety in chicken feathers colors, sizes and shapes.
This hearty wild chicken gives us a multicolored rooster and drab brownish hen. The roosters very similar in color to what we call BB Red in domestic breeds.
The hen's drab color and markings help hide herself and her nest as she incubates her eggs and protects her young on the jungle floor. Besides attracting mates, the flashy and colorful rooster can use his feathering to distract predators nearing his hens and young.
His hens instinctively remain on the ground when incubating or rearing young, but both male and female are equipped with enough flight feathering and wing strength to create lift and roost in trees.
Chicken feathers of domesticated breeds often have very similar markings in both male and female, though some breeds mimic the Junglefowl's camouflaged hen and colorful rooster. Often layer, dual purpose and meat breeds are unable to lift off the ground more than a few feet due to the much heavier muscles and bones bred into them.
Wings and feathers can only do so much for the less aerodynamic domesticated chicken, though visually, feathering is mostly in good proportion to body type and size. But always there are the exceptions…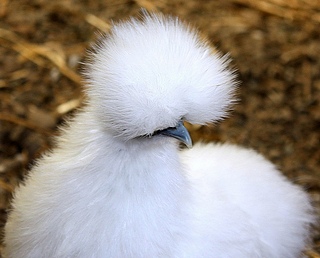 The Silky is, or should be, void of all barbs that lock feathers together so its feathering looks more like fur. The Frizzle Cochin has been bred to grow feathers that seem to splash here and there from the top of their heads to the bottom of their feathery legs.
These and other chickens with such abnormal feathering, compared to their wild ancestors, may be able to jump down from a few feet but have trouble creating lift with their little wings covered with nothing but soft and fluffy feathers.
The on-set of cooler late summer and fall temperatures alerts us all to the coming winter. In nature and in many domestic species seasonal changes trigger physical changes. Chicken feathers respond with molting.
A chicken will shed many feathers and replace them for the best possible insulation from cold weather. Often hens will cease laying eggs during this time to allow vital nutrients to focus on new feather growth.

If you have questions that you would like to ask a vet, use the service below. Ask a Vet has qualified doctors that can answer questions about chicken health.

Chicken Feathers Questions

---
.

---
Return From Chicken Feathers to Chicken Questions